Agrivoltaics: combining the agricultural and energy transition
Positive synergies drive territorial independence
Agrivoltaics: a specific concept based on solar energy expertise
In 2007, following various projects on Réunion Island, Akuo originated the Agrinergie concept. As is often the case on an island, the land on Réunion is mainly used for agricultural purposes to meet the food requirements of the local population. The use of land for the sole purpose of generating green energy is not a viable option. Hence, Akuo conceived the idea of using land to fulfill a twofold function: agriculture and energy production.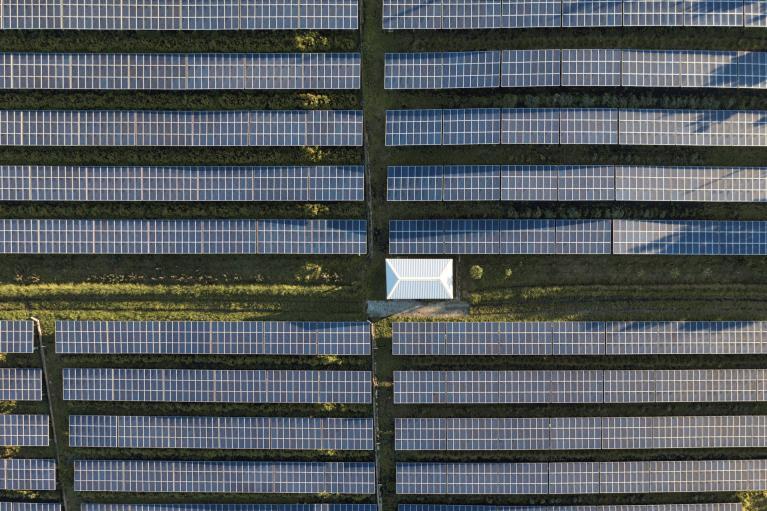 One concept, several techniques & solutions
From articulated solar panels that provide shade, to cyclone-proof greenhouses, trackers, and ground-based solar panels, the concept is tailored to the needs of specific crops or the operational requirements of a specific location. What matters most is to ensure that the technology provides crops with sufficient sunlight and protection from weather conditions. This applies to livestock as well: they require protection from predators and from the heat.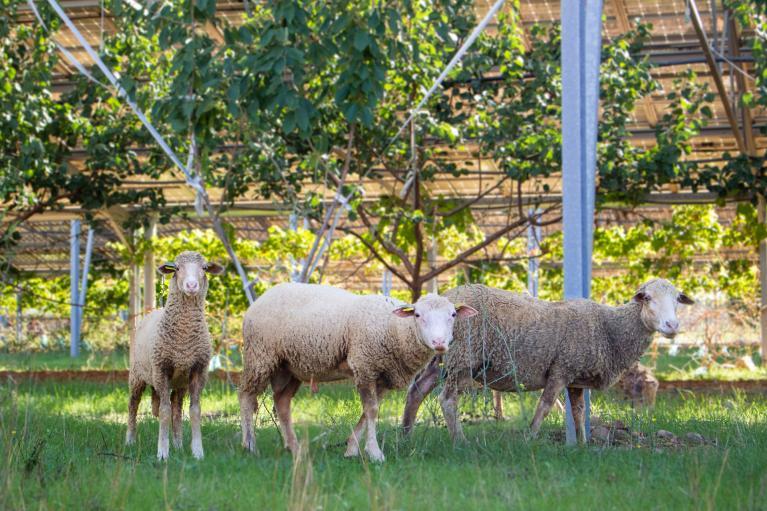 Energy independence: an urgent global need; a local solution
Climate change is a threat across all French territories; agriculture is in danger! In addition to soil degradation — soil is becoming less fertile resulting in a decrease of high-quality agriculture — the number of extreme climate events is increasing. This directly puts our civilization and its agricultural production in peril. Getting organized at a local level is no longer an option; it is the only way forward.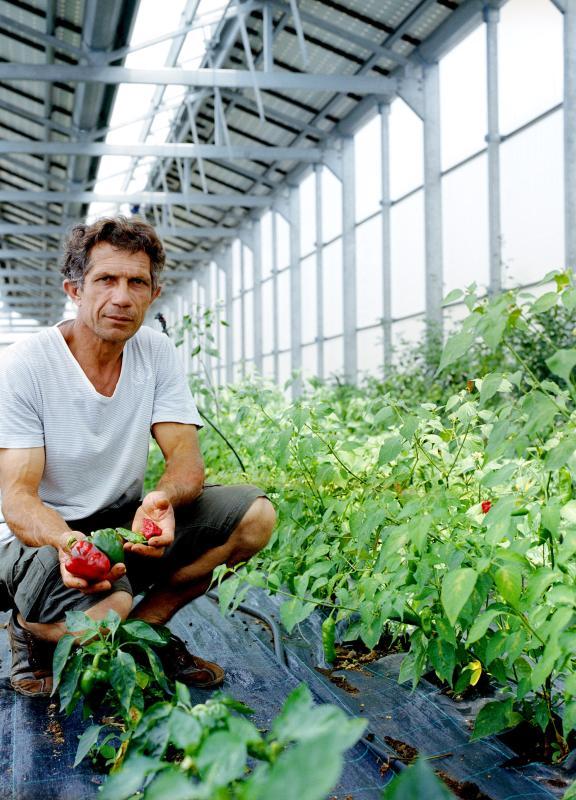 Over 30
Agrivoltaic projects under construction and in operation around the world
Enriching soil and developing sustainable projects
Agrivoltaic technology ensures stable crop yields and drives production synergies within a single plot of land. In addition, associated investments allow for production diversification and added value.
Based on a sustainable economic model (funding, construction, operation), the concept is a source of new economic momentum by offering jobs to local inhabitants who use a circular production model. Innovation and know-how go hand in hand for the common benefit.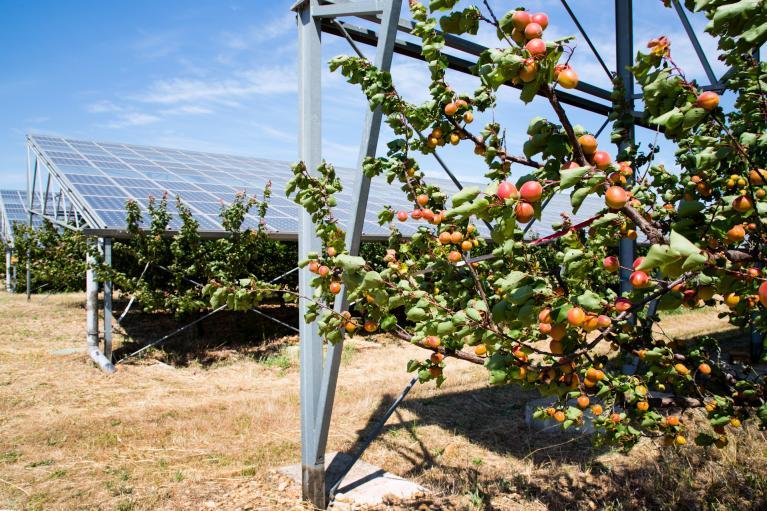 Agrivoltaics according to Akuo: comprehensive expertise
A combination of production and energy storage
From the start, Akuo has constantly revised the agrivoltaics concept in order to provide increasingly efficient and sustainable solutions. First-generation agrivoltaics combined agriculture and the production of green energy through ground-based photovoltaic systems. Crops were grown between rows of solar panels. The second-generation concept is based on combining agricultural production and solar energy by building cyclone-proof greenhouses with photovoltaic roof panels. The third generation links an energy storage system to the production hub for optimal use of produced energy.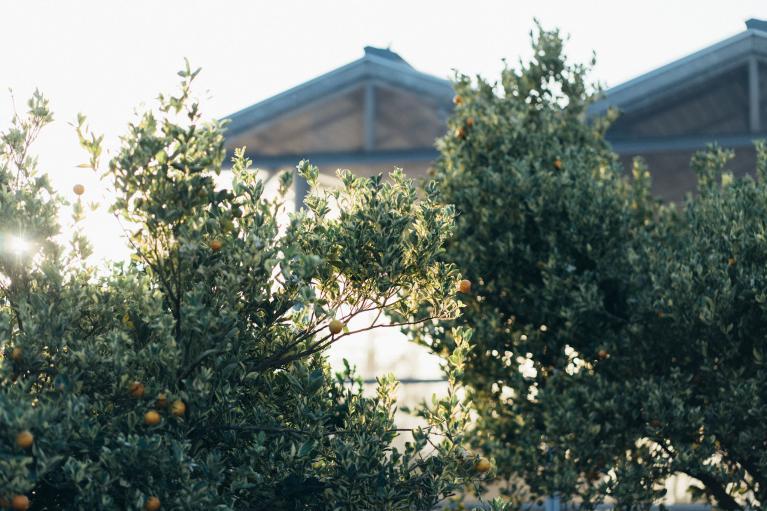 Responsible farming
As part of the concept's holistic approach, each project is designed as a global and sustainable entity, and makes use of resilient, organic and economical practices. By promoting species complementarity when farming the land, the soil remains arable and is continually enriched.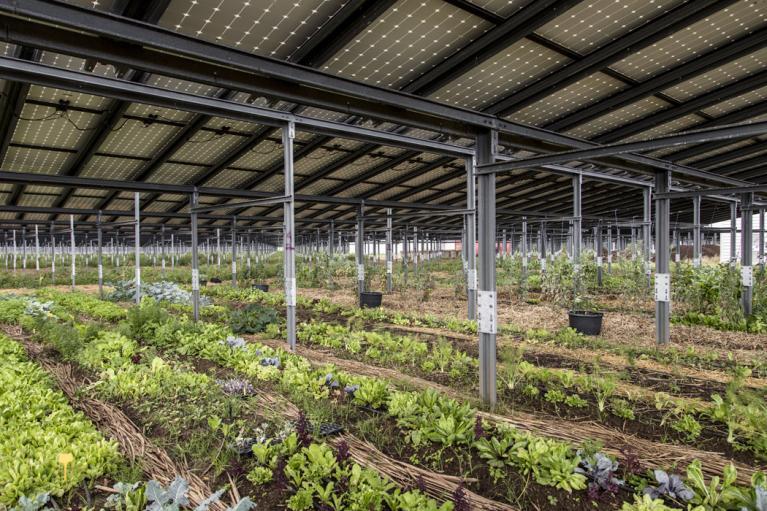 A range of technologies for local practices
When associating agriculture with the production of electricity, one activity must not negatively affect the other. It is important to find suitable technology that ensures their mutual reinforcement. Each photovoltaic system is thus designed to benefit both. Much more than simple photovoltaic panels, certain units are genuine production entities that adapt to weather conditions in real time. The purpose of the panels is twofold: to produce electricity and to collect water for agriculture.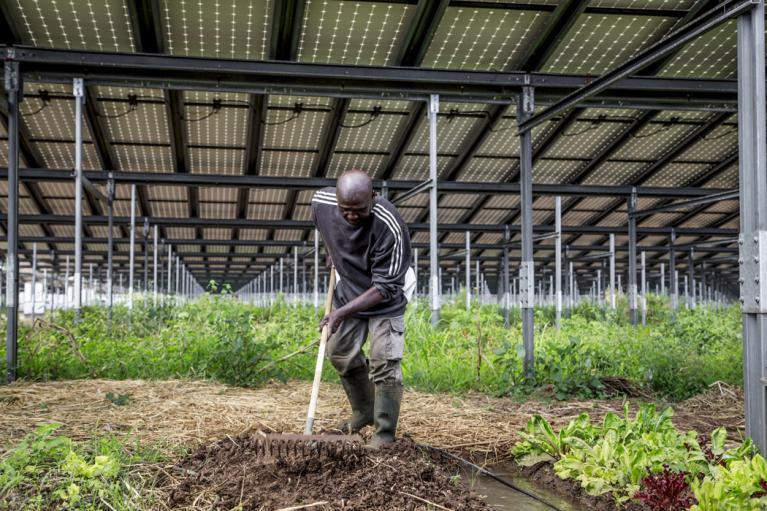 Water management
Photovoltaic units allow for reduced water consumption and ensure stable crop yields. The panels partially cover the ground and reduce water evaporation.
Designed to preserve this resource, certain photovoltaic systems can recover rain water, channel it towards a storage unit and distribute it to crops as needed.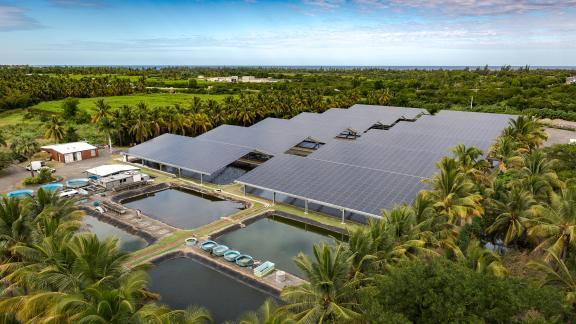 Value sharing
Site managers are at the heart of Akuo projects. Throughout their partnerships, Akuo provides training and assistance, and ensures that those who operate sites are in charge of production, and yet have financial support in order to invest, and withstand weather events and fluctuating agricultural prices. It is a welcome turn of events for the farming industry.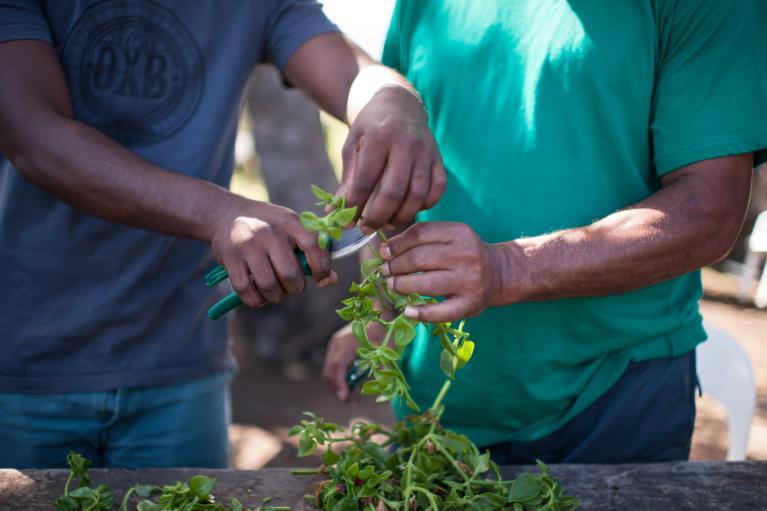 Public support
Agrivoltaics is an incredible opportunity to build strong ties with territories — training programs, local jobs, sustainable and local food production — and the means to plant seeds for the collective good.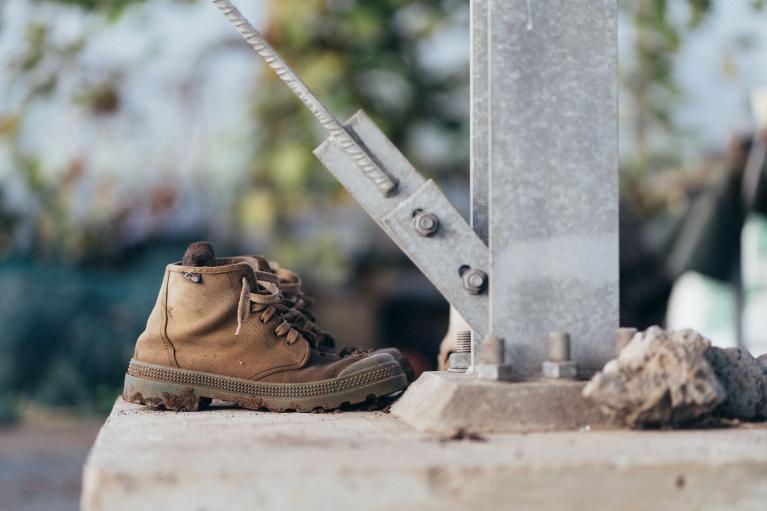 Agrinergie: important dates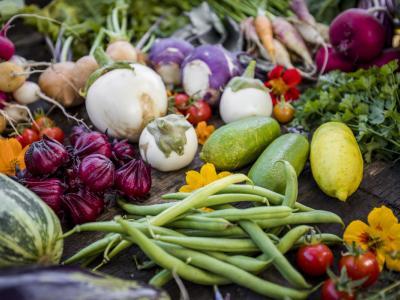 2007
Agrinergie was created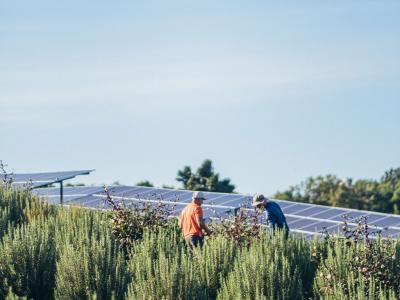 2011
1st generation Agrinergie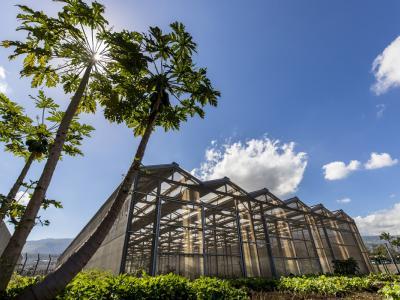 2014
Agrinergie and storage: Bardzour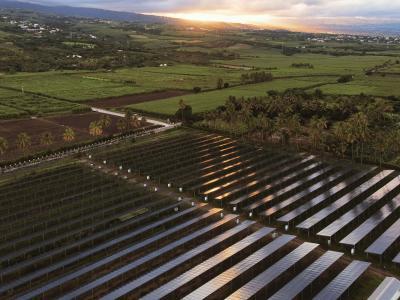 2016
2nd generation Agrinergie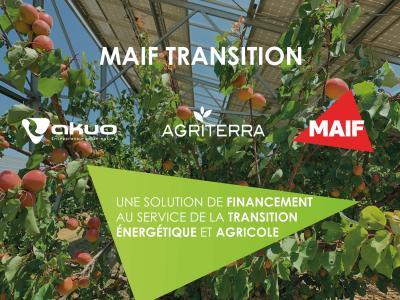 2019
Creation of the MAIF Transition Fund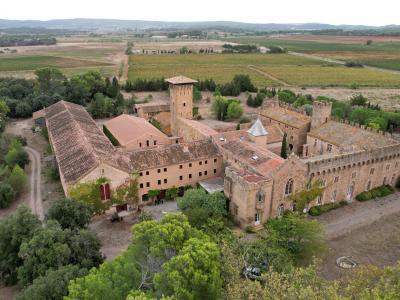 2021
Abbaye de Gaussan
The Gaussan Abbey: a source of inspiration for future generations
The Gaussan Abbey is a novel and unifying project that aims to bring a heritage landmark back to life. A symbol of our history and our traditional know-how, the abbey has become a setting to experiment new ways of life, and future methods for responsible and sustainable consumption.
Driven by Akuo, the collective project is an example of a healthy ecosystem: from the selection and preservation of seeds to the on-site sale and consumption of finished products. Ancient seed varieties are selected according to nutritional properties and climate resilience.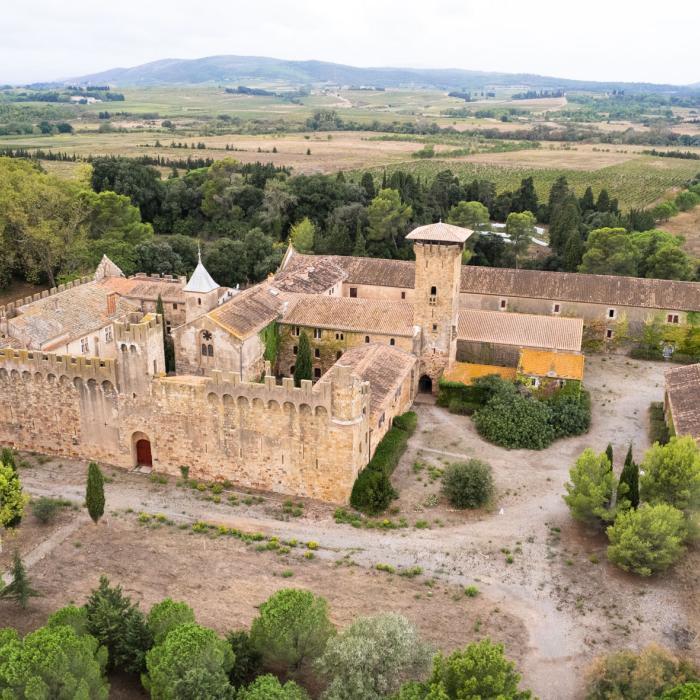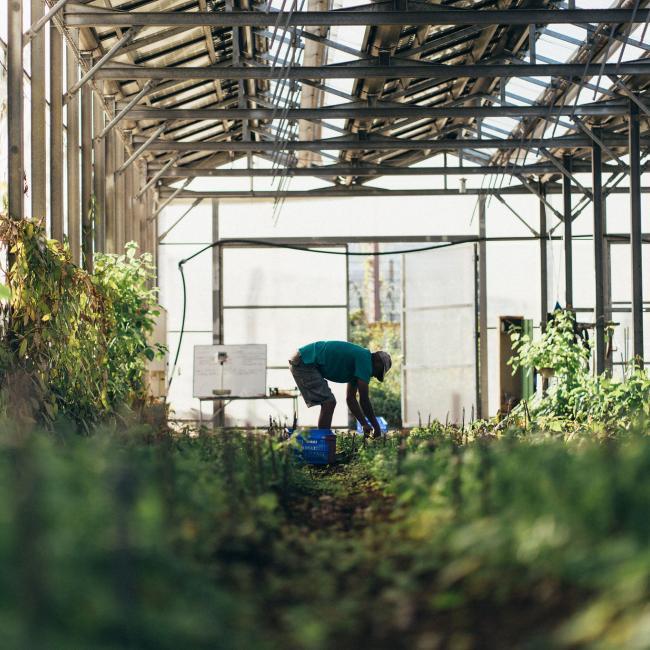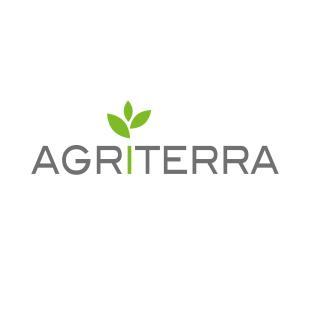 Agriterra: examining feasibility
As an Akuo partner, Agriterra contributes to agricultural and food system transitions on French territories across the world. Mainly focused on traditional culture and local know-how, Agriterra determines and designs solutions tailored to each territory's specificities and opportunities.
In close collaboration with farmers, Agriterra examines the project's financial aspects, participates in the design of the photovoltaic systems, and selects the crops best suited to the location. The primary goal: to create positive agronomic synergies with the energy producing structure.
Created in 2011 on Réunion Island in order to cultivate land for the first Agrinergie® projects, Agriterra currently uses other plots of land for arboriculture, market gardening, horticulture and small-scale animal production, as demonstrative practices adjacent to agrivoltaic setups.
Agriterra provides support for agrivoltaic projects throughout their life cycle. The company has five main goals:
Help elaborate technical and economic proposals for farmers;

Elaborate suitable agricultural projects in collaboration with farmers and Akuo;

Be the go-to expert for agricultural concerns and project procedures when dealing with the Chamber of Agriculture, DDT, local governments, inhabitants, etc.

Conduct preliminary agricultural studies;

Oversee agricultural projects throughout their life cycles.
MAIF Transition
Financing solution for the agricultural and energy transition
Created in 2019 by the MAIF insurance company, Akuo and Agriterra, MAIF Transition is a financing solution designed for dozens of agricultural and renewable energy projects across France. The solution meets the needs of project initiators:
Land ownership loans

 : m

ake it easier to buy farm land by acquiring land and making it available through 25-year rural environmental leases.

Installation or diversification

 : u

ndertake the necessary investments for installation or diversification projects (irrigation, agroecology to reverse soil degradation, etc.)

Agrivoltaics

 : e

xamine, with Akuo and Agriterra, the possible implementation of an agrivoltaic project along with an agricultural project on part of the land.