The island of Chalki which was the 1st of the GR-Eco Islands initiative to implement its workplan. 
With the  GR-eco Islands national initiative, the Greek Government aims to transform Greek islands into models of green economy, energy autonomy, digital innovation and ecological mobility. It includes actions such as the increased use of renewable energy sources, the creation of digital infrastructure, the promotion of energy efficiency, the sustainable management of waste and water, e—mobility and the electrification of transport, and the green transformation of agriculture and tourism and the development of part and other infrastructures. 
The island significantly upgraded its energy efficiency through the installation of a 1MWp photovoltaic system and the use of six entirely electric vehicles to reinforce the fleet of vehicles of the Police and Coast Guard, as well as the Municipality, together with the installation of four electric vehicle charging stations at the island's port.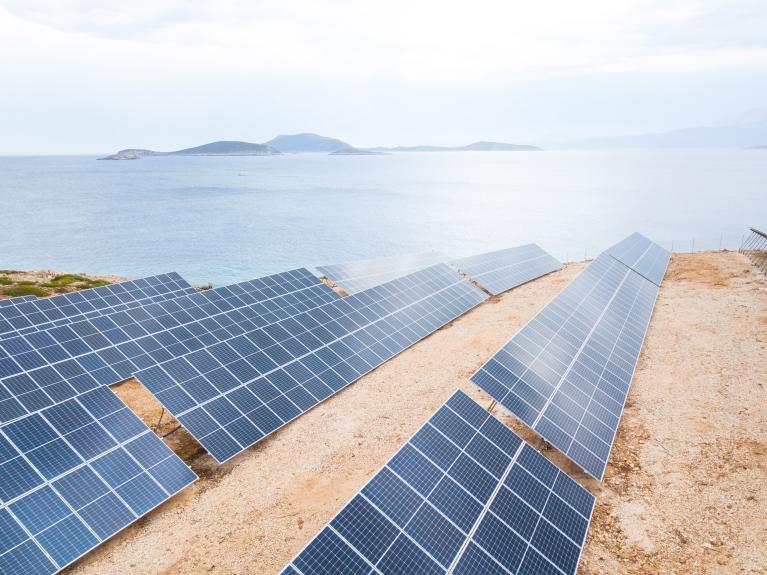 At the same time, public lighting has being upgraded with "smart" management systems, while innovative telecommunication services and technological applications have been developed to support e-learning, with the development of 5G infrastructure and broadband networks. 
This project was proceeded in collaboration with French companies Citroën, Vinci Energies and Akuo Energy Greece ALD Automotive, PPC, Vodafone & Papastratos, under the auspices of the Greek government and the French Ambassador in Greece. 
Akuo Energy was in charge of photovoltaic installations installed on Chalki's municipality land property. 
Our CSR commitment
 In order to broaden the new smart electrical public lightening installed in the harbour and with already six stand-alone led road lamps, the project is planning on offering this public service to the entire island. 
With already one solar powered boat, the project will enable the partial electrification of the maritime transport to create a zero carbon footprint on the marine side as well.  
The solar powered charging stations are a direct benefit to the inhabitants as they also provide free wifi and free charging for other devices such as phones and wheelchairs.  
In Halki, in addition to the PV plant electricity system, through this project, the electrification of all the island's fleet is underway. This includes the replacement of old vehicles with electric cars, motorcycles and bicycles as well as the widening of the new local charging network. 
The new 5G network also enables the children to learn through e-learning at school. Thanks to this network, all the inhabitants now have access to online medical consultations from medical offices in Athens.  
This solar plant also contributes to green energy on the neighboring island of Rhodes.